make an impact
become a sponsor
40 tons careers work one-on-one with sponsors to:
provide entry and management level job opportunities for diverse BIPOC talent and individual siwth past convictions. 
Build a Chicagoland candidate database and pre-screened employee pipeline
Integrate your company in extensive conference marketing & media
Deliver corporate marketing objectives and amplify sponsor exposure
Receive inclusion in national/local press opportunities
B2B Networking with other exhibitors.
Garner the attention of thousands of diverse consumers and media. 
By broadening our digital content, event programming, and recognition opportunities, your sponsorship will support the idverse and inclusive work that we provide to all our members throughout the year. We welcome you to join us for this newly expanded opportunity. 
Learn More & Register
Conferences.40tons.co | 808-372-7591 | sales@40tons.co
canna get a second chance registration
40 tons career conference plans to host one of the largest expungement clinics in illinois.
Working in collaboration with the Cannabis Equity Illinois Coalition, Cabrini Green Legal Aid, Westside Justice and a host of law firm and law schools. 
CONSUMERS WITH PREVIOUS NON-VIOLENT CONVICTIONS WILL BE ABLE TO ATTEND THE CONFERENCE AT NO CHARGE.
Opportunity to participate in the expungement clinic (free rap sheet, fingerprinting and legal review of their cases)
Receive free resumes, headshots and LinkedIn profiles
Attend informational workshops & classes
Participate at the career expo to find employment
Sponsorship opportunities
(6) Sponsors at ($6000) to underwrite the cost of *800 people to attend the conference
(8) Sponsors at $8000 willing to help to underwrite the cost of the expungement clinic.
Additional sponsorship opportunities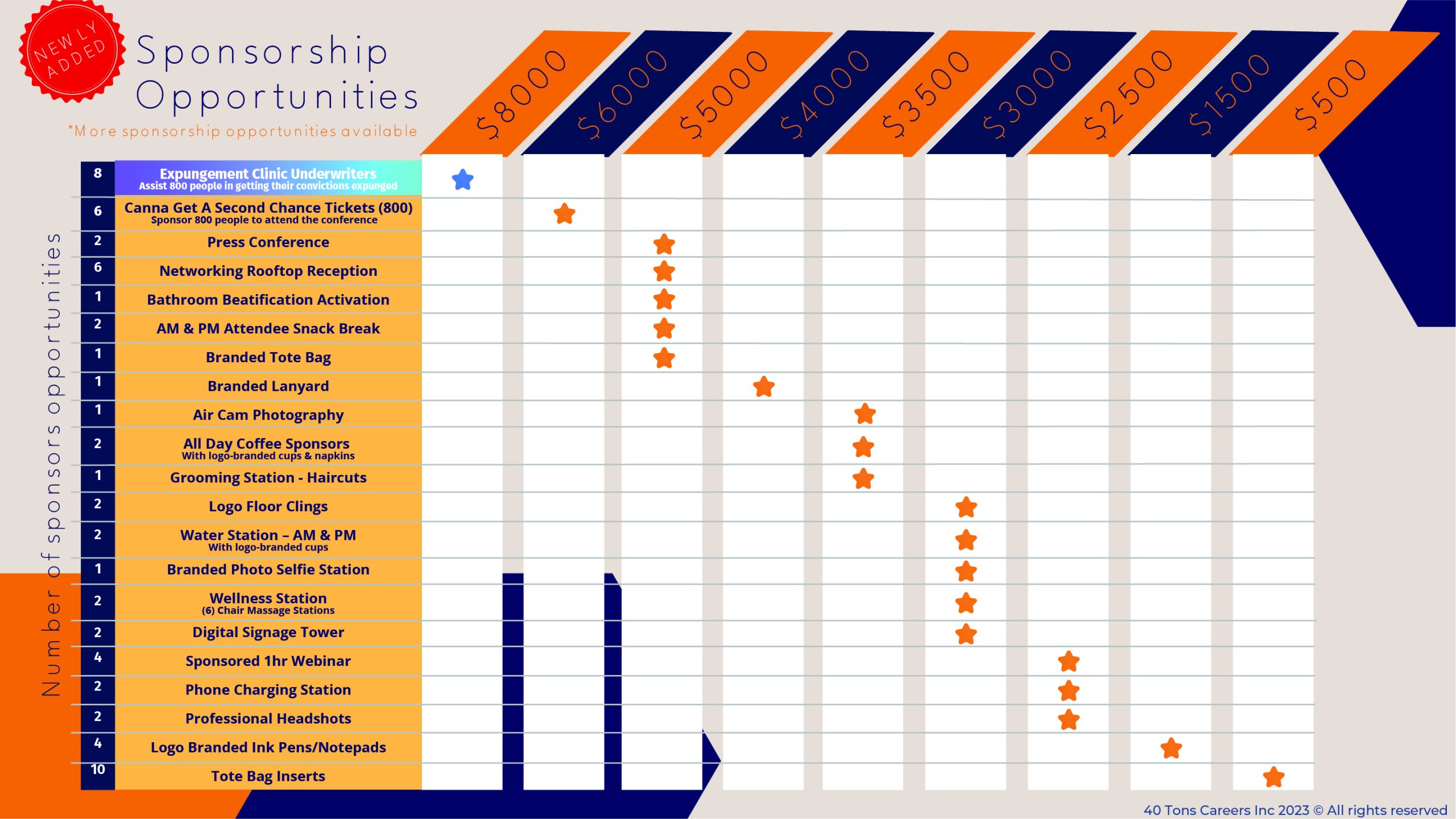 If you have more questions and want to chat with us about them, schedule a 15-minute stragegy call with us today!